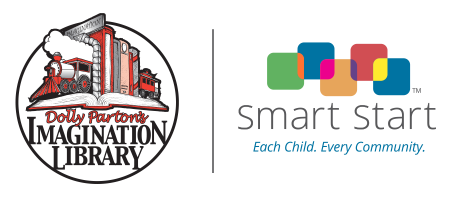 Smart Start and Dolly Parton's Imagination Library are working together to get books into the hands of North Carolina's youngest children
In 2017, North Carolina's state lawmakers included $3.5 million in the first year and $7 million in the second year of the state budget for Smart Start to administer Dolly Parton's Imagination Library across North Carolina.
The Smart Start network, made up of 75 local partnerships that serve our state's communities, is signing up families across NC for Imagination Library which is a book gifting program for children from birth to age five. Together, we are working to ensure children develop a love of reading early on.
ABOUT IMAGINATION LIBRARY
In 1995, Dolly Parton launched an exciting new effort, Dolly Parton's Imagination Library, to benefit the children of her home county in East Tennessee, USA. Dolly's vision was to foster a love of reading among her county's preschool children and their families by providing them with the gift of a specially selected book each month. By mailing high quality, age-appropriate books directly to their homes, she wanted children to be excited about books and to feel the magic that books can create. Moreover, she could ensure that every child would have books, regardless of their family's income.
ABOUT SMART START
Smart Start is a nationally recognized leader in early childhood and healthy development. Our network of early childhood partnerships provide expertise, guidance and infrastructure to ensure North Carolina children receive the care and nurturing they need to thrive. Tailored to meet the specific needs of each community, we invest in early education, literacy, health and family support so that our children are ready to succeed, lead productive lives and contribute to a strong, vibrant North Carolina.