NCPC and Early Childhood Investigations Webinars Offer FREE e-Learning Webinar
FREE WEBINAR |
e-Ready or Not?  Incorporating e-learning into your program's professional development mix
The North Carolina Partnership for Children, Inc. has partnered with Early Childhood Investigations Webinars to offer a free webinar designed to help participants determine when e-learning is a right-fit for staff professional development.
About the Webinar
As directors, professional development providers, or those in technical assistance roles, part of your job is to help teachers and/or family child care providers identify professional development opportunities that support their growth. More and more online professional development opportunities are available in our field. Might e-learning be the right fit for your program's professional development needs? In this session, we'll discuss what to look for in selecting high-quality e-learning that fits your budget. We'll share tips to help you determine if your program staff are ready to learn online and ways to ensure that your e-learning efforts pay off. We'll provide downloadable tools and additional resources to help get you started.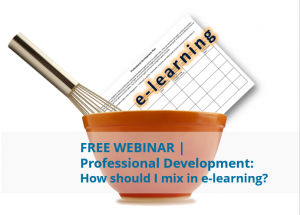 Join NCPC's e-Learning Iniatives Manager, Kara Lehnhardt, along with Gillian Gansler and Kim-Tai DeMars from Quality Assist, Jodi Whiteman and Niki Darling-Kuria from ZERO TO THREE, and Pilar Torres from Fathum: Learning Solutions to…
1) Test ideas about how e-learning can be used to balance professional development experiences while maximizing the benef1ts of face-to-face training.
2) Discuss the importance of intentionality in selecting professional development that meets the needs of staff and the program and identify sample professional development plans.
3) Access assessment tools to help determine the quality-level of e-learning opportunities.
4) Discuss staff readiness when it comes to e-learning and ways to avoid potential pitfalls.
5) Identify additional resources/opportunities to explore this topic further.
Date | May 30, 2018; 2:00-3:30 p.m. EST
Cost | FREE